Forearm/wrist orthoses are volar or dorsal and either gutter-based or circumferential. Ideally, the wrist should be positioned in 15-30° of dorsiflexion (wrist extension), except in carpal tunnel syndrome, when the wrist should be maintained at neutral to minimize median nerve compression.
The volar type should allow for metacarpophalangeal (MP) flexion by ending before the distal palmar crease.

Examples of forearm-wrist orthoses include the following:
Ulnar gutter splint (see the image below)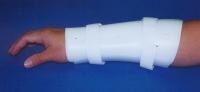 These types of orthoses are used for immobilization in patients with lateral or medial epicondylitis, wrist sprain, wrist or forearm fractures, postoperative wrist fusions, and arthritic conditions.
Original Article Reference: http://emedicine.medscape.com/article/314774-overview#aw2aab6b4