| | | | |
| --- | --- | --- | --- |
| Forearm Wrist Hand Orthoses | | | |
0.1.
Forearm-Wrist-Hand Orthoses
The basic types of forearm-wrist-hand orthoses include the resting hand splint (as shown in the image below), functional resting splint, and static hand splint.
Resting hand splint. Courtesy of Medical Center Brace, Pittsburgh, Pa 


Placement may be dorsal, volar, or circumferential and extends from the tips of the fingers to two thirds of the distal forearm. The dorsal type of splint is particularly useful in patients who demonstrate palmar hypersensitivity and grasp reflex.
The position of the wrist is neutral or in slight dorsiflexion.
Functions of the forearm-wrist-hand orthoses include the following:

Immobilization in patients with hand flexor and extensor tendinitis or who are undergoing tendon, nerve, or fracture repair
Maintenance of passive ROM in patients with upper motor neuron lesions, burns, and contractures

Burn splint
Weightbearing splint
Resting hand splint




Functional resting splint
Static hand splint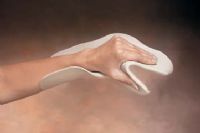 Burn splint